Long Exposure on Android | A Complete Guide for Beginners
You must look at the photos of peoples in which they painting their name with the light on the different social media platforms. Or if they have managed to take a picture of a starry night sky that actually looks better, and wondered how to do it yourself, the answer to your question is long exposure photos. It is very simple, once you find the correct settings, and have the right equipment. In this article, we discussed the how-to take long exposure on android. Read the complete article we mention all the important equipment and setting for long exposure.
Long Exposure on Android: What You Equipment Need?
Before taking the long exposure shots on your smartphone there is some essential equipment you should have. Most importantly you need something to mount your phone on, to keep it still because even the smallest vibration will be enough to ruin the photo. Here are the major pieces of equipment:
A tripod Stand.

A mount.

A memory card.
Why Click Long Exposures Photographs on Your Smartphone:
Sometimes when the peoples look at the phrase "long exposure" they think it's some photographer jargon but that's not true. Basically, it means holding the shutter open for longer than usual. It helps enables some kinds of effects that you can't get by just shooting and pointing at something and means you can take better photos in low light situations.
Must Read: 5+ Cool Themes for Android With Advanced Features [2020 UPDATED]
You can easily create cool cloud-like effects, light trails, create your own "ghost" photos, or you can just shoot really nice photographs of the night sky laden with shining stars.
Long Exposure on Android: The Method
Now we explain the method of taking long exposure photos step by step read all the steps if you want to take long exposure photos professionally. These steps are:
Find Your Manual Mode:
These days the latest Android smartphones have built-in manual controls function in-camera apps. Smartphones like Samsung, OnePlus, Huawei, LG, etc, are already capable of taking a long exposure photograph. Just go to your default camera app, search here the mode which named as "manual" or "pro".
Locate Shutter Speed:
We've been using the latest android smartphones in our testing, among other cameras. When you switch to the manual mode you'll see the different options in manual mode. The most critical settings in manual mode are ISO and Shutter Speed settings. Normally shutter icon is used to indicate Shutter Speed.
Must Read: Editorial Fashion Photography | How To Shoot Like Professional
When you select the shutter speed icon you'll get a list of speeds, ranging from fractions of seconds as fast as 1/3200 of a second to thirty seconds. If you choose longer exposure, the sensor takes more time to exposure to light.
Adjust ISO:
It is also important to adjust the ISO. Basically, the ISO defines how sensitive the sensor is to light. When you set the ISO on a high level, you not only increase the risk of over-exposing by having too much light and ending up with a bright image, with no detail. In long exposure photography, set the ISO relatively low. The optimal ISO for long exposure photography is 50 or 100.
No Manual Mode?
These days some of the smartphones are still not offering manual camera mode. But no need to worry about it. You can install third-party apps to control your camera manually. There are plenty of different applications that are available. Just go to the app store and download the suitable app to control your camera manually.
Long Exposure on Android: Starry Nights
If you want to take some great long exposure shots of the clear night sky then take your tripod stand, pointing it to a clear night sky. Set you Sutter speed to 20 or 30 seconds, and set the ISO to its lowest settings. Now you can great long exposure shots of the sky and uncovers stars which you can't even see with your eyes.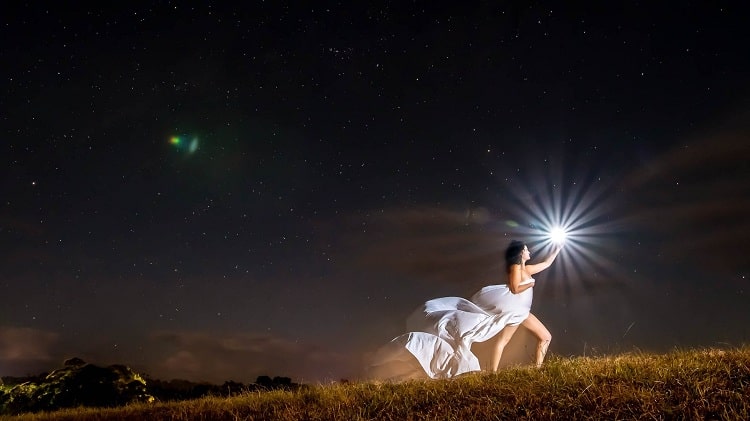 Long Exposure on Android: Ghosts
You can easily take ghostly images by using the same technique. The only difference between ghostly images and long exposure shot is, you have to ask your subject to stand still for seconds, then get them to move out really quickly out of shot. If your subject is a child then it would be a difficult task.
Must Read: Top Guides & Tips About Black & White Photography
Long Exposure on Android: Light Painting and Light Trails
For light, painting uses the same settings of long exposure and low ISO. Point the flashlight towards the camera and use it to paint an ant thing (like your name) in the air. Now the latest smartphones have a light painting mode optimized for this, but the problem is it can be done manually.
A Few Words from Tech Hub Gadgets:
In this article, we discuss how to take Long Exposure shots on your android smartphone. Long Exposure is a type of photography in which you can click amazing low light shots. Photography on your mobile phone is a difficult task but as you know the latest mobile phone cameras have very amazing features which make photography very easy. We hope you like these articles, let us know your reviews in the comment section.